Susan P.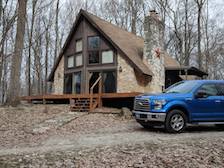 For Susan P., her home is her everything. Over the years, friends have helped her with renovations and she has put in a significant amount of work to make her house a home. Money was always tight and her mom has helped her with some loans to improve the house.
"I was making it," said Susan. "Sometimes, I'd be a few days or weeks late because of how my pay day would fall."
Every bill, every expense, made it more and more difficult for Susan to keep up. Her truck needed repair to the tune of $800. She took out $400 one week and another $400 the next.
"Without a car, you can't work and without work you can't pay your bills," noted Susan. She went without a car for a few weeks. Financial struggles piled up and Susan's life was rough and full of stress. She needed to keep up with her utilities and phone. She would pay off a little on one bill and a little on the next, but she couldn't catch up. She hated being late and owing money.
Soon her mortgage lender started to call about late payments. She tried to adjust her payment schedule to add more years and interest. With no success, Susan was certain she was going to lose her house. Her thoughts turned dark, contemplating suicide to end the torturous roller coaster on which she was stuck.
"I was so down," recalled Susan. "I was in a slump, in a hole. I just didn't know what I was going to do." It was going to be either figure out some sort of help on my mortgage or I was going to commit suicide."
Then her younger brother told her about Indiana's Hardest Hit Fund. Unsure of what help she might be able to receive, she got in touch with Lesley at Affordable Housing and Community Development Corporation in Marion, Ind.
"That was a call worth making, I'm telling you right there!" said Susan. "I knew I had to do something."
Susan set up a meeting with Lesley, bringing her mom along with her for support. Lesley put a plan of relief in motion. Susan was adamant about getting things fixed and committed to getting out of this mess.
When she learned she was approved for reinstatement on her mortgage, she just wanted to sit and cry tears of joy. "There was light at the end of the tunnel. I could breathe in deep again—it was unreal."
Looking back on her experience, Susan is so thankful for the Hardest Hit Fund and the work of Affordable Housing. "They helped me so much. Thank you a million times over. I just don't know what I would've done. It was just so awesome. I can't even express enough gratitude for organizations who provide this type of assistance."
For others facing a dark road and needing help on their mortgage, her advice is simple, "Make the call! Get that pressure off of your body. Don't be stressed out about it. There is someone out there to help you."
---