Renee W-J.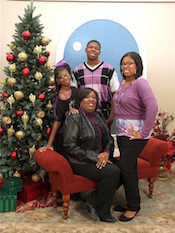 Have you ever had your dreams crumble in your hands? Renee W-J. knows that feeling all too well.
As a hardworking mother of three, Renee had finally closed in on her dreams. She had her family, a good education, a good job and a house that was recently constructed for her in Merrillville, IN.
However, her dreams suddenly came crashing down as she lost all three of her job contracts due to spending cuts. Renee was faced with no income and the possibility of losing her family's home.
Although Renee had a master's degree and solid work experience, she struggled to find a job. Because of this, she could not make her mortgage payments. She heard about Indiana's Hardest Hit Fund (HHF), and applied for assistance. Renee received nearly $30,000 of HHF assistance to bring her current on her mortgage and cover her monthly mortgage payments while she searched for a job.
Renee recently found a job and is back to work. She has been able to get back on track thanks to the HHF. Though she is exiting the program, Renee expressed her gratitude for the assistance that she has received.
"The Hardest Hit Fund gave me hope," said Renee. "Thanks to the HHF I was able to get caught up on my mortgage and save the home that means so much to me and my children."
---