Gabe C.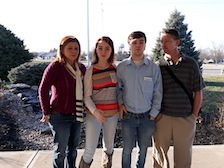 Gabe C. was a hardworking man, pulling long hours as a commercial truck driver. He took great pride in his work and providing for his family of four.
However, at the age of 41, all that came to a grinding halt. In December 2018 he went into cardiac arrest. He was hospitalized for 23 days and in a coma for 13 of them. He was able to spend Christmas at home before having a pacemaker put in, followed by a heart pump, which helps keep him alive until he gets a heart transplant.
Gabe's health condition made it impossible for him to work—which, coupled with medical expenses, is how he fell behind on his mortgage payments. His wife served as a school aid for special needs children. While her paycheck helped with the utilities, it couldn't cover everything.
"I kept thinking 'How am I going to do it?'" Gabe said. "'How am I going to keep my home for my family? How would I even leave my house in the condition I'm in?'"
This home had been a refuge—not only to Gabe's family, but his whole community.
A tornado came through his hometown in 2012. Gabe served on the volunteer fire department, so during the tornado, he was out helping. He saw the tornado pick up a home and place it back down.
"My family and whole neighborhood stayed in my basement, 17 to 18 people. We are only one of two houses on the street that have a basement. Luckily my family and neighbors were safe, but everything had to be rebuilt."
His home suffered $48,000 in damage. It needed all new drywall, windows and roofing. They were able to remodel it to fit their family's needs through a lot of hard work. They'd been through so much in this home; they didn't want to lose it.
Gabe found Indiana's Hardest Hit Fund when searching online for help. He submitted his application. At first he didn't meet the criteria.
"My bank wanted payment in full before they'd accept any payment, so it started snowballing. There was no chance of straightening up my mortgage without Indiana's Hardest Hit Fund."
But shortly thereafter, he began working with Tri-Cap, an IFPN agency, to submit his application. He was approved and his mortgage reinstatement assistance came through just a few days before the sheriff's sale.
"I felt relieved, a lot of weight lifted off my shoulders," Gabe said. "I'm glad I finally found something that worked for us."
Now Gabe, his wife and two children are settled safely in their home and he is waiting for a heart transplant.
Gabe offered this piece of advice for struggling homeowners: "Don't let your ego get in the way of seeking out assistance from Indiana's Hardest Hit Fund. It really works."
---