Mark H.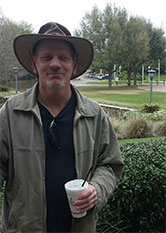 Mark H. had everything that anyone could ever want: a family, children, a house and his own construction business. Things seemed to be perfect for Mark, but then everything fell apart.
Mark was divorced during 2011, and in 2012 he lost his business. After reopening his business, he was tragically crushed in a forklift accident. The doctors told him that he would never walk again. Then, in 2015, he suffered a near-fatal heart attack.
"After my divorce, the forklift accident, losing my business, then my heart attack," says Mark, "I was headed to be destitute."
As a result of all these tragedies, Mark was out of work for quite some time. He was in danger of losing everything. However, Mark heard about Indiana's Hardest Hit Fund, applied to the program and was accepted. The Hardest Hit Fund was able to cover his mortgage, and help him get his life back on track.
"If it wasn't for the Hardest Hit Fund, I would've lost my house and my truck and wouldn't have a means to work at all. I'd be living under a bridge somewhere," Mark said. "The Hardest Hit Fund gave me hope that there was something to look forward to in all this nothingness. I believed this was something that would help me get back on my feet, and it has."
Mark has since been able to start walking, and found a job to help pay his medical bills.
"If you're at risk of losing your home, hang on," says Mark. "It may not be as bleak as it looks. The Hardest Hit Fund is a wonderful program that really works. Words do not describe what it will do for you."
---