Julianne M.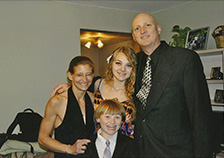 Have you ever felt like you did everything right, but it all felt apart anyway? Julianne M. can relate. Julianne had a secure job at a hospital, and was married with two children. She paid her dues and everything seemed perfect. But it all came crashing down when she received the worst gift anyone could receive for Christmas.
The medical crisis
On Christmas Eve, Julianne just wanted to finish her shift and get home to her family. However, as she was working, she collapsed, blacking out and exhibiting stroke-like symptoms. She was taken home and could barely move on Christmas day.
Julianne eventually found a specialist in Cleveland, Ohio who could help her. She was diagnosed as having Reflex Sympathetic Dystrophy with nerve damage.
The financial struggle
Unfortunately, her symptoms did not fit the medical issues that her insurance or employer covered. After struggling for three months to get short-term disability, she was dropped from her long-term disability and insurance. Julianne and her family were left with no insurance, no income and no hope.
"I had a secure job," said Julianne. "I paid into the policy for 25 years, but the insurance refused to cover me because I didn't fit into one of their boxes. My husband couldn't get a job because he was so busy taking me to doctors and taking care of our children. All of our security, all of our hope…it was gone in one phone call."
As the foreclosure notices started rolling in, Julianne resigned herself to lose everything. In order to pay her mortgage, she had to liquidate her children's college funds. One day, however, her sister mentioned that there was a program that might be able to help them called Indiana's Hardest Hit Fund (HHF). Julianne got in contact with the HHF and qualified for assistance.
Hope returns
Though Julianne's medical condition has not have improved significantly, her life is much less stressful since her mortgage is being paid by the HHF. She is receiving some social security disability and planning to see a new medical specialist. Her husband now has a job, and things are much more stable for them.
"It's been a long road," said Julianne. "The only thing that got us through was the HHF. I have so much gratitude towards all of the people from the HHF. If there is anyone going through a similar financial crisis, I know you don't think there's any hope left, but there is. Just reach out to Indiana's Hardest Hit Fund, and they will do everything in their power to help you keep your home. They saved my family, and they can save yours."
---