Christine S.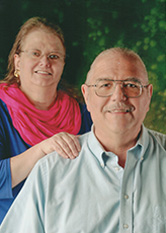 Christine was a hardworking wife who enjoyed helping people as a financial counselor at a local hospital in Columbus, IN. She moved up through the ranks, working with ER and hospice patients. However, that all changed one day when she lost her job.
After job hunting for more than a year, disaster struck. Christine was hospitalized due to severe diabetic episodes.
Due to her condition, an infection developed in her leg causing her calf to swell to the size of a football. She nearly had to have her leg amputated. After she was released from her doctor's care, Christine and her husband Gary were left with astronomically high medical bills and only one income to cover all of their expenses.
As the financial walls were closing in on them, Christine heard about Indiana's Hardest Hit Fund (HHF) and applied. Christine and Gary were approved for nearly two years of mortgage payment assistance.
"HHF literally saved my life," said Christine. "It was a big weight taken off. We were in a place where we could not afford the medicine or food that I needed to be able to be healthy and stay alive. Thanks to the Hardest Hit Fund, my husband and I have been able to stay in our home that we have lived in for over 30 years, and I have been able to get the medical help that I need."
While Christine works to recuperate and improve her health, she continues to embrace her love of service. She has a goal of crocheting 1,000 hats to donate to local hospitals and charities.
"While we were struggling, it felt like nobody cared. But that's what the HHF changed for me," added Christine. "I knew there were people who cared. I can't tell you enough what it means to me. The HHF staff were the first people who made me feel like Gary and I had these problems through no fault of our own. Thank you to everyone who works for HHF!"
---