The Heichelbech Family | Jasper, IN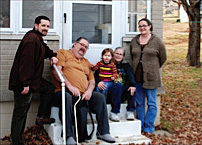 The Heichelbechs have struggled to make their mortgage payment since a medical condition left Kerry Heichelbech unable to work in late 2007. Despite efforts to obtain a modification to their payment schedule on their own, the Heichelbechs remained unsuccessful in getting their mortgage company to cooperate. Facing mounting bills, Kerry and Susan went to Tri-Cap, an IFPN Network Agency in Jasper, IN, to apply for energy assistance. Upon hearing about their situation, Tri-Cap referred the Heichelbechs to its homeowner program where a foreclosure prevention specialist worked with them to determine the best option. The foreclosure prevention specialist determined that the Heichelbechs qualified for a modification through the Making Home Affordable program.
Although the lender erred in twice denying the Heichelbechs a modification, the IFPN counselor remained persistent. Finally, the lender agreed to modify the mortgage, reducing the monthly payment by $225.
The Heichelbechs are now able to afford their home and give their granddaughter lasting memories of trips to Grandma and Grandpa's house.
---