Stephen & Helen B. | Indianapolis, IN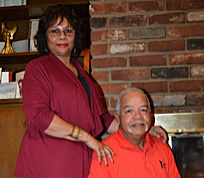 LETTER FROM BORROWER
December 3, 2011
Community Action of Greater Indianapolis
2445 N. Meridian Street
Indianapolis, IN 46208
Dear Kevin:
This letter is to thank you and Community Action of Greater Indianapolis for all your hard work, counseling and prayers. Without you we had no idea what we would have done regarding the potential foreclosing of our home. After acquiring our home 13 years ago, we were in shock that there was the possibility that we were going to lose our home!
When our lender denied us and stated that we didn't qualify for the "Making Home Affordable Program", we were at a total loss of how we could salvage our credit and we both had come to the conclusion there was nothing we could do. In October 2010, we contacted your organization (CAGI) and scheduled our first meeting. Once we got to the meeting we realized we were not alone. There were several couples and individuals facing the same dilemma because of loss of jobs, lack of income, etc. Our situation was caused by downsizing, lack of income and then underemployment.
Kevin, you were sent to us by God and we know that. Without you and your knowledge of mortgages, and the legalities that were in our favor, we would have lost our home. As homeowners, we had no idea what rights we had and how we could negotiate and talk to our lender to get them to understand our situation. We encountered so many road blocks and obstacles that at one point we were about to just give up. But you wouldn't allow us to give up. You stood by us the whole time with counseling, prayers and determination. You had several conference calls with us and our lender and we truly believe they felt your presence and the backing of Community Action of Greater Indianapolis!
We can say this; as of this date our home was SAVED by you! Our mortgage was decreased $155 per month and is definitely affordable for us. We finally closed on our mortgage modification December 1, 2011. Our last conversation regarding the loan modification was yesterday and the great news was given to us during that conversation. We are now considered CURRENT on or mortgage; our lender will report to all the credit bureaus that we are current; our credit will be salvaged and best of all we can keep our home!
Thank you Kevin! Thank you Community Action of Greater Indianapolis! Without you, we couldn't have done it!
Sincerely and with Great Gratitude!
Stephen & Helen B.
---