DeAngela & Derek B. | La Porte, IN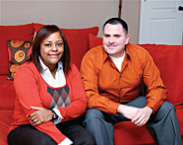 DeAngela and Derek B. bought their first home in early 2006. The couple were comfortable making their monthly payments, but were surprised the following year when the property taxes more than doubled because the mortgage and homestead exemptions were not filed.
DeAngela and Derek, who both have well established careers working for the State of Indiana, saw their monthly payments increase nearly $600 a month and the former Marine and his wife were unprepared to handle the large increase in monthly payments. When they fell behind on their mortgage, DeAngela and Derek contacted the mortgage company and had the tax problem corrected. However, the mortgage company still required DeAngela and Derek to make up for the delinquency from the payments they missed. They entered into a payment plan, but it was beyond their budget. The mortgage company was unwilling to modify the loan or reduce their payment.
Frustrated with the process, DeAngela contacted the Indiana Foreclosure Prevention Network. They were assigned to work with Pathfinder Services, an IFPN Network Agency in Fort Wayne, Ind. The foreclosure prevention counselor realized the loan was secured through the Department of Veteran's Affairs (VA) and began working directly with the VA on a modification. Once the VA was on board, the lender approved a modification for DeAngela and Derek in an amount lower than the initial monthly mortgage.
DeAngela, pleased with the outcome, offers a piece of advice to others struggling with their mortgage payment. "Don't wait until the last minute to get help. When dealing with a mortgage company, you need all the help you can get."
---